Our solar panel cleaning will clear your panels of all dirt and debris costing you up to 40% efficiency including:
Animal and bird droppings
Leaves, pollen and other foliage
Traffic and industrial pollution
Salt and other build up around coastal areas
All of our prices include the following:
Chemical and detergent free solar panel clean with Reverse Osmosis and De-Ionized water that leaves a streak free finish ensuring maximum power production.
Visual inspection of solar panels and inverter to ensure your system is running correctly.
You may also find that keeping your solar panels clean is a condition of your manufacturer's warranty. Save yourself time and money and safe guard the efficiency of solar panels.
SOLAR PANELS
We work out our pricing based a few factors including the number of panels that require cleaning, Call us today on 1300 590 070 to get a quote instantly, or if you prefer you can Click Here to drop us an email.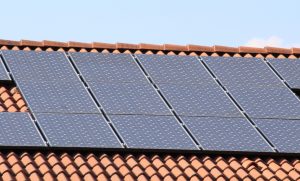 Gutter Cleaning
&

Pressure Spraying
Gutter Cleaning
We can clean your gutters for you too while we are there prices start at $80 including waste removal and gutter inspection report. Click Here or call us on 1300 59 00 70 for an obligation free quote
Pressure Spraying
We can also pressure clean your driveways, patios or pool areas prices start from as low as $80!  Click Here or call us on 1300 59 00 70 for an obligation free quote